---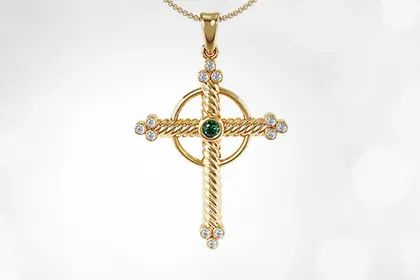 Where to Buy Celtic Cross Necklaces and Pendants?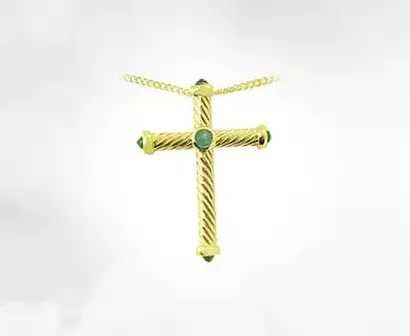 Are you looking for a Celtic Cross pendant for yourself, or are you searching for a meaningful gift for a friend or relative? Whether you are looking for a yellow gold Celtic cross pendant or an emerald and diamond Celtic cross pendant, we can help! We have a stunning array of yellow and white gold jewelry featuring Celtic symbols available to customers all over the world. Our Celtic Cross necklaces are a symbol of Christianity emerging from Ireland.
We are proud to offer a dazzling array of Celtic cross designs and styles - the famous iconic Celtic cross necklace with elegant chain, our Emerald and Diamond Cross Pendant (with or without the symbolic circle), and the Ruby and Diamond Cross Pendant, which incorporates the symbolic circle. All of our exquisite Celtic cross pendants are available in 14kt yellow gold. The emerald, ruby and diamond represent different birthstones, so are excellent choices for birthday gifts! Many Christians wear a Celtic Cross pendant to celebrate their faith. Did you know that the Celtic Cross Pendant in Yellow Gold represents infinite love? That means if you are carrying a gold Celtic Cross Necklace with a chain made of yellow gold, then you will be carrying love with you, always.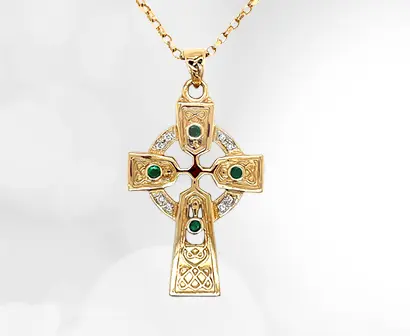 Whether you are shopping for a gold pendant you can wear every day, or you're on the lookout for something special for a landmark birthday or a special occasion, we are confident that you will find what you are looking for in our impressive selection of Celtic cross pendants. A Celtic Cross Necklace will be a gift to remember. Add stunning Celtic drop earrings to complete the look, or pair it with one of our beautiful gold Celtic brooches.
How to clean my Celtic Cross Necklace

If you have a Celtic Cross pendant or a cross necklace with a chain, it is beneficial to take good care of your treasured possessions. Whether your Celtic Cross pendant is made from yellow or white gold, it is important to clean your cross on a regular basis. Take extra care if your cross has a diamond, ruby or emerald. Wipe the metal carefully using a soft cloth and soapy water and gently polish the stone. This will remove dirt and debris and give your Celtic Cross a lovely shine. Make sure you store it in a safe, dry place when you are not wearing it, and remove it when you wash. Keep your Celtic Cross pendant dry. If you'd like more information about the Celtic Cross, or you have questions about our Celtic Jewelry collection, we'd love to hear from you.
How to wear my Celtic Cross Necklace?

Some people like to wear a Celtic Cross pendant every day, while others prefer to save their jewelry for a special occasion. It is entirely up to you whether you wear your cross necklace all the time, or whether you want to add it to an outfit for a special occasion such as a wedding. We offer everything from plain gold necklaces and Celtic cross pendants to more ornate and decorative pieces with diamond, emerald and ruby gemstones. More traditional styles in gold are an excellent gift idea for those who prefer more understated designs, while a cross necklace with a diamond or an emerald will make a beautiful present for a friend or loved one that has more exotic tastes.
---
---
Keep in Touch With Us
Need any help to find the best Irish and Celtic Jewelry for you?
Please talk to us today. You can email us any time or give us a call.
Follow us on Facebook and Instagram, to keep you posted. Join our Email list for early offers and special features.