---

An engagement ring is a symbol of love and a strong bond between a couple. It is a promise to get married and spend the rest of their lives together, no matter how many ups and downs they have to go through. Most Irish couples opt for Celtic rings that are a traditional symbol of marriage. It reminds a couple of the knot they have tied in their beautiful wedding ceremony.
If you are looking for a beautiful Celtic ring for your soon-to-be fiancé and want to be a bit familiar with their history, then you have come to the right place. We have handpicked the sleekest and stylish designs of Celtic rings for your partner that you can get your hands on. Let's get right into it!
What are Celtic rings?
Celtic rings are wedding and engagement rings that feature an ancient Celtic design. These popular designs are known as Celtic knots, Claddagh, and Celtic Warrior. Each design has its designated meaning and is a symbol of love and romance between the couple. These designs are common among the Celts in their weddings and are usually handcrafted, encrusted with precious stones.
The Claddagh ring features two small hands holding a hand in between, symbolizing the importance of true love between the couple. The Celtic knot ring features a chain of Celtic knots that symbolizes the everlasting love and bond between the newly married couple. While the Celtic Warrior Ring features the patterns inscribed on Ardagh Chalice and it is a symbol of loyalty, honesty, and true companionship.
#1 Yellow Gold Single Stone Diamond Celtic Solitaire Ring:
This beautiful yellow gold Celtic knot ring features a heart-shaped, brilliant cut diamond. This ring has a delicate appearance and showcases the true beauty of the Celtic knot band. The yellow Gold goes perfectly well with the glimmering white diamond. If your partner likes simple rings with a deep message of love behind it, then this is the ring to go for. The 0.35cts diamond will sure make her eyes have an equal amount of glimmer, trust us!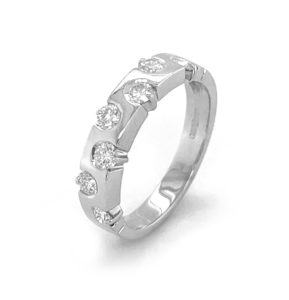 #2 Yellow and White Gold Diamond & Emerald Celtic Knot Ring:
The combination of white and yellow gold in this white Diamond and Emerald Celtic knot ring makes it ultra-luxurious. This piece is for the one who has a passion for high-class jewelry with modern designs. The 0.30cts diamond and emerald stones make this ring worth every single penny spent on this ring. With this classy engagement ring, you can win the heart of your fiancé-to-be instantly.
#3 White Gold Diamond Celtic Engagement Ring:
When you can't find the perfect engagement ring for your partner, just go for a solitaire. It never fails to amaze a woman, trust us! This beautiful white gold Diamond ring has a classy appearance that is fused with a touch of tradition with two Celtic knots on either side of the stone. The premium quality 0.40cts diamond is certified by GIA, which means you get your money's worth. Get this ring for your loved one and make her yours forever.
#4 White Gold Coloured Green Diamond Celtic Ring:
If you do not like a big diamond in the center of your ring then this Celtic knot band is the best option for you. However, this does not mean you compromise on the diamonds. This ring has brilliant cut 0.30cts diamond beside each emerald stone. The band is thicker than other rings which makes it ideal for women who are into contemporary fashion. The simplified Celtic knot design gives it a traditional appearance while still being on the modern side.
#5 White Gold Diamond Celtic Knot Ring:
A simple engagement or wedding band that is bordered with several small diamonds is ideal for people who prefer simpler jewelry. The white gold band is paired with 0.20cts diamonds featuring a traditional design that is hand-crafted from scratch. Tie a special bond with your partner with this elegant ring and preserve countless memories together! It can also be an amazing promise ring for your girl to sweep her off her feet.
#6 Yellow Gold Single Stone Diamond Celtic Solitaire Ring Set:
Yellow gold never goes out of style. A classic diamond ring made out of yellow gold is what you need to get your hands on if your partner loves timeless classic jewelry pieces. It features small Celtic knots all over the band with a 0.35cts, brilliant-cut white diamond. The Heart-shaped diamond comes with a GIA Certification which is a guarantee for the gem's authenticity. This ring comes with a thinner band that can be paired together or worn on the other hand.
#7 White Gold Single Stone Diamond Celtic Engagement Ring:
These are one of the more traditional Celtic designs, featuring a 0.50cts white diamond in the center. The white gold band is wider around the diamond which leaves enough space for intricate Celtic warrior-inspired carving, all done by hand. The brilliant-cut diamond glimmers beautifully to make this ring worth your money. This simple yet traditional design of this ring makes it an heirloom piece to share your traditions with your future generations.
Why Shop From Irish Jewelry Craft?
Irish Jewelry Craft was started by a skilled jewelry maker back in 1947. His skill combined with the premium quality material used in the jewelry making earned this company the reputation of one of the best Jewelry Boutiques in Ireland. Today, we provide luxury jewelry items to people all around the world. Our material is 100% authentic and our designs are true to the Celtic traditions. Most of all, the specific demands of our customers are our top priority. These high-quality Celtic rings will not only make your engagement extra special but will add the warmth of tradition and memories to your relationship. So, what are you waiting for? Book a ring with us not and bring a sweet smile to your partner's face with these attractive Celtic rings.
---
---
Keep in Touch With Us
Need any help to find the best Irish and Celtic Jewelry for you?
Please talk to us today. You can email us any time or give us a call.
Follow us on Facebook and Instagram, to keep you posted. Join our Email list for early offers and special features.
You may also like