---

Ogham (pronounced O-Um) is an ancient Irish alphabet and the earliest written representation of the Irish language. This fascinating rune-like writing system can be found carved into large stones right across Ireland, with the majority situated in Munster, a province in the south of the Emerald Isle.
The history and usage of Ogham over the centuries is a fascinating story, and one we will be exploring in great detail in today's article.
What does Ogham look like?
On the surface, Ogham writing looks simplistic yet beautiful. As with any other written language, it comes with a number of nuances that makes it unique and different in its own right.
One of the important things to consider when examining Ogham writing is that it was intentionally designed to be carved into wood and stone. The central line that runs along every Ogham inscription represents the edge of that particular piece of wood or large stone.
From this central line, lines are carved either to the right or to the left of the central line, at differing angles and in varying amounts together. These 3 factors are what makes Ogham work and differentiates one type of line from another.
Ogham can be quite a difficult language to comprehend upon first viewing. To the untrained eye, Ogham stones and inscriptions carved in wood simply look like arbitrary and meaningless linear carvings. It is only when used alongside an alphabet key that one can begin to decipher the signs and messages that have remained in Ireland for hundreds of years.
Just to make things a little trickier, Ogham is read from bottom to top. So, the next time you see an Ogham stone in real life or a picture of one in a book or online, don't forget to read it from the bottom up!
When was Ogham first used?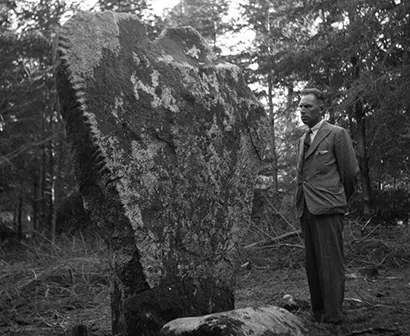 Dating the first instances and subsequent use of Ogham writing in Ireland has proved a tricky task for historians over the years. It's believed Ogham was first carved into wood and stone sometime in the 4th century. It would go on to become the first and primary way of writing down the Irish language until the 7th century inclusive.
The writing style was invented and developed during the Roman Empire, and historians and scholars believe this might have influenced this early Gaelic language system. Many academics would be quick to point out that both Ogham and Latin have 5 vowel sounds, while the Irish language has double that amount with 10. For this reason, many believe Latin to be a primary influence of Ogham.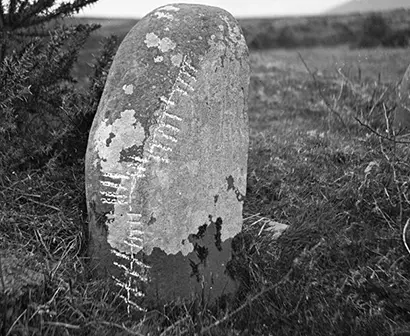 What's even more interesting is that Ogham evolved quickly over time. It's a very versatile and adaptive writing technique that required both creativity and great skill from its users to survive. Of the approximately 400 Ogham stones that survive across Ireland and the UK today, many contain different versions of Ogham, with symbols doubled or enhanced to represent new sounds that did not have their own unique symbol beforehand.
It truly is a remarkable ancient alphabet, designed to be used by all on readily available materials. Although short-lived in the larger scheme of things, Ogham was used to great effect in creating signposts, illustrating ownership of land, business transactions, and even poetry and magic by poets and druids respectively.
Ogham in Modern Ireland

Nowadays, Irish academics are still working hard to preserve and protect the Ogham writing system. Just last year, a 3D project was launched to help keep the Ogham alphabet safe, as just 16% of the surviving Ogham stones are housed in national museums. This leaves the other 84% open and vulnerable to weather conditions and other wear and tear from being outside.
In Irish culture, Ogham is still very much a popular talking point and a common representation in art and fashion. Ogham writing is a popular muse for tattoo fans, with many choosing to get either their first name or surname written in Ogham as a tattoo. Due to its visually unique and striking nature, jewellers still use Ogham as inspiration in making charms, pendants, and necklaces for both men and women.
---
---
Keep in Touch With Us
Need any help to find the best Irish and Celtic Jewelry for you?
Please talk to us today. You can email us any time or give us a call.
Follow us on Facebook and Instagram, to keep you posted. Join our Email list for early offers and special features.