---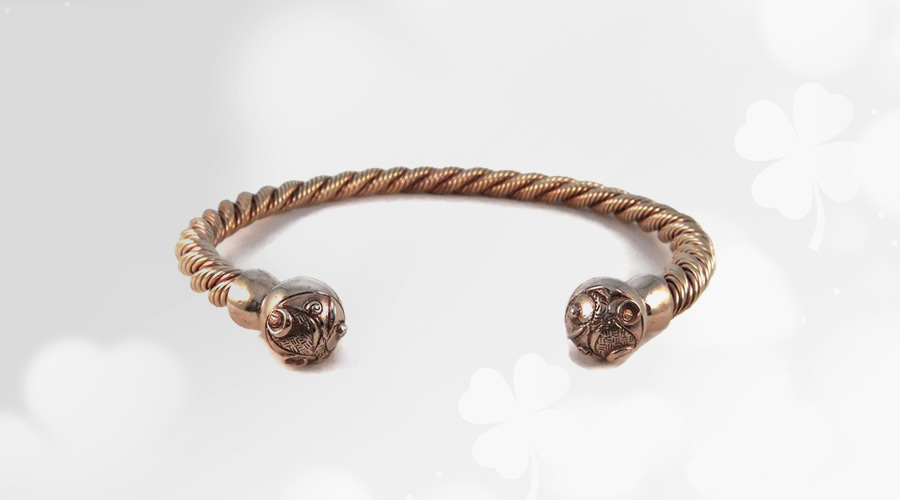 Crafted from bronze, copper, iron, silver, and gold, Torcs were a common form of neck and wrist jewellery in ancient Celtic culture. Torcs were worn by men, women, and children alike, often as a symbol of the wearer's high status in society.
Interestingly, Torcs were hugely popular as a form of jewellery throughout the Bronze Age, with hundreds of surviving Torcs discovered in Ireland, and right across Europe towards Asia. However, with Ireland currently holding the record for most historical Torcs discovered, it's clear that the ancient Celts held them in particularly high regard.
In this article we will explore the history of the Celtic Torc, what they look like, who wore them, who made them, and their symbolism in wider Celtic society.
What does a Celtic Torc look like?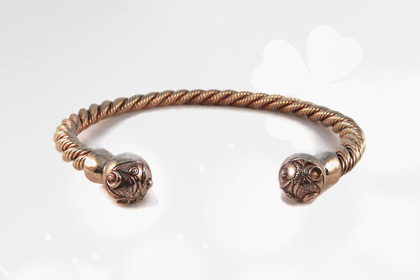 The easiest way to describe what a Celtic Torc looks like is to take a deeper dive into the name itself. The word Torc (sometimes spelled Torque) is actually derived from the Latin verb 'torquis' meaning 'to twist'. The ancient Celts crafted Torcs by twisting smooth, twisted, or even hollow bands of metal around a core of iron or sometimes wood. The result is a circular metal band, varying in degrees of detail, and ending with a pair of terminals.
Rather unsurprisingly, the terminals of a Torc were often where some of the finer details of artistic expression took place. While some Torcs simply boasted fat circular rings as terminals, many were crafted in the form of serpents and other animal heads as a symbol of strength and artistic merit.
The ancient Celts were enamoured with animals and the symbolism behind them, and so when wearing Torcs with animal heads used as terminals, they would always be worn upright to make them more visible.
Who wore Celtic Torcs and why?
As mentioned earlier, Torcs were a symbol of the wearer's high status in ancient Celtic culture. Owning and wearing a Torc, particularly one made of gold, was a clear indication of a recognised societal status. It's important to remember that some Torcs could be quite heavy, with gold crafted pieces often weighing over a kilogram. This made them the perfect portable representation of one's wealth.
In terms of what types of people wore them, surviving Torcs of varying shapes and sizes indicate that they were worn by men, women, and children alike. Jewellery was hugely popular among Celtic warriors who would often wear Torcs on their neck or wrists going into battle. Torcs were often passed down from generation to generation as family heirlooms, again as a continuous symbol of a particular family's standing in Celtic society.
Who made Celtic Torcs?
In my opinion, one of the more interesting facts about Celtic Torcs is just how highly regarded the people who made them were in ancient Celtic society. The metalworkers and blacksmiths who crafted these beautiful pieces of jewellery were held in the same regard as poets, musicians, and druids as 'men of art'. Their highly-skilled contribution of Celtic Torcs to society were valued on a similar level to music, literature, and weapon production.
The Symbolism behind Celtic Torcs
Top marks if you guessed that Celtic Torcs held some sort of spiritual or religious symbolism, because you are exactly right. Throughout their history, the ancient Celts used artwork and folklore to depict their Gods either wearing or holding Torcs. Of course, this only further enhanced their standing as a symbol of status in wider society.
Furthermore, it was not uncommon for Torcs to be buried together along with gold coins as either a ritual burial or a spiritual offering. Over the years, archaeologists have often found several Celtic Torcs grouped together for these very reasons.
Modern Celtic Torcs
Just like the Celtic Tree of Life and the Celtic Cross, Celtic Torcs are still worn today, and remain a popular jewellery choice for both women and young girls.
Gold and silver Celtic Torcs are still wholly admired and make for a fantastic gift, particularly for someone with Irish or Celtic roots. Of course, modern Torcs have been noticeably adapted to a smaller size making them more affordable, lighter, and in keeping with today's fashion trends.
---
---
Keep in Touch With Us
Need any help to find the best Irish and Celtic Jewelry for you?
Please talk to us today. You can email us any time or give us a call.
Follow us on Facebook and Instagram, to keep you posted. Join our Email list for early offers and special features.