---

What is a Celtic brooch?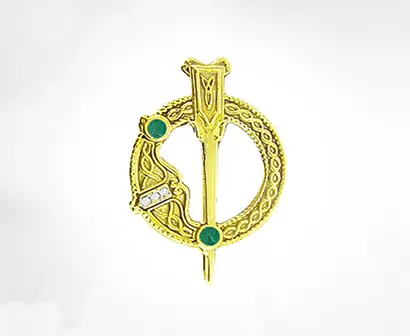 Celtic brooches, also known as penannular metal brooches, are a popular type of clothes fastener associated with the Early Medieval period in the British Isles. Penannular means formed as an incomplete ring. Celtic brooches also pre-date Medieval times, dating back as far as the Iron Age and Roman times.
Many centuries ago, Celtic brooches were worn by both men and women as significant status symbols in society. Much of society's elite wore these brooches in both Ireland and Scotland from 700 to 900 A.D. In Ireland, Celtic brooches were also worn by clergy to fasten copes and vestments (long loose garments worn during ceremonies).
Today, they are worn as style statements on clothes like jackets and sweaters. Celtic brooches typically use lots of knots and styles that symbolize Ireland. A famous example of such a brooch is the ornate Tara Brooch, discovered in Ireland in 1850.
How to wear a Celtic brooch?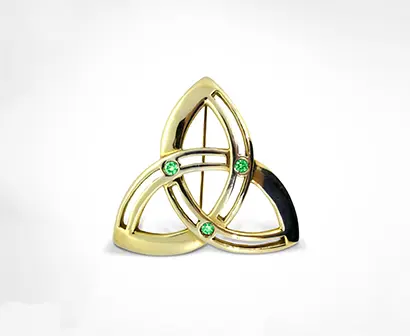 If you want to wear a Celtic brooch, you would typically wear it by the shoulder (men) or by the breast (women). These days, men would also pin a Celtic brooch to the lapel of a jacket or blazer. Meanwhile, women sometimes wear Celtic brooches on a shirt collar, the waist of a skirt, and even to secure the end of a scarf.
Celtic and penannular brooches feature a long pin attached to the head with a ring. Care should get taken when pinning a Celtic brooch for obvious reasons. The pin moves freely around that ring, but only as far as the terminals. It's a simple way to fasten clothing, and the pin won't leave a permanent hole in the garment.
Where can you buy a Celtic brooch?

At Irish Jewelry Craft, we sell a range of exquisite and stylish Celtic brooches made of yellow gold and white gold. The brooches available to buy from Irish Jewelry Craft can be customized in a variety of ways. For example, the diamond stamped Tara brooches can be made with either 10k or 14k yellow gold. You can purchase the Celtic brooches directly from our website. We offer free delivery, and all orders get sent out with tracked couriers.
---
---
Keep in Touch With Us
Need any help to find the best Irish and Celtic Jewelry for you?
Please talk to us today. You can email us any time or give us a call.
Follow us on Facebook and Instagram, to keep you posted. Join our Email list for early offers and special features.