Connemara Marble - Ireland's Ancient Gemstone
Written by Linda Rafferty on 27/06/2022
---
What is Connemara Marble?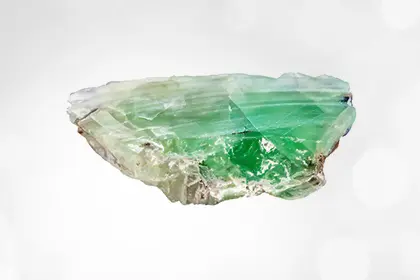 Connemara Marble is a rare and beautiful form of marble found in the West of Ireland. It is found exclusively along Ireland's spectacular wild Atlantic coast in Connemara, County Galway. It is predominantly green in color, containing many swirling patterns and layers of vibrant to pale green hues. With over forty shades of green and its awe-inspiring designs, it is one of the most authentic Irish products. It is also one of the rarest varieties of marble in the world due to its limited supply - a true Irish treasure.
The History of Connemara Marble.

This distinctive green marble forms when limestone deposits are heated under pressure. Connemara marble dates back to over 600 million years ago! The striking hues of green in the marble are created from tiny crystals of green serpentine, chlorite, and diopside mixed with white calcite and dolomite. Connemara marble has been quarried in Ireland for 200 years. It is still quarried today in Clifden, a coastal town in Connemara.
This iconic Irish marble adorns many famous buildings across the world. Some fine examples are in Westminster Cathedral in London, the magnificent floor of the Galway Cathedral, and the Senate Chamber walls in the State Capital building in Pennsylvania.
Connemara Marble Jewelry - Your own unique piece of Ireland.

The striking green swirling patterns of Connemara marble make it extremely popular in Irish jewelry design. Its natural beauty has inspired jewelers to create exquisite and eye-catching earrings, pendants, rings, and bracelets. With different green designs and tones in each piece of Connemara marble, every piece of jewelry is unique. Our authentic Connemara marble jewelry is beautifully crafted, and no two pieces are the same. Each piece of jewelry is one-of-a-kind, making a charming and timeless gift from the Emerald Isle.
Iconic Gemstone of Ireland - 'A Savage Beauty'

The ribbons of green bands and designs found in Connemara marble reflect the serene and dramatic Irish landscapes from which it originates. The swirling green tones of this stone are believed to promote a sense of calm, peace, tranquility, and healing. It is also rumored to contain the luck of the Irish, bringing good fortune to those who receive it as a gift!
The renowned Irish playwright and poet Oscar Wilde described Connemara as 'a savage beauty'. We think this is also a fitting description of Ireland's stunning treasure, Connemara marble.
Keep in Touch With Us
Need any help to find the best Irish and Celtic Jewelry for you?
Please talk to us today. You can email us any time or give us a call.
Follow us on Facebook and Instagram, to keep you posted. Join our Email list for early offers and special features.