---

IJC Catalog
The best way to showcase your class is with what you wear, and jewelry plays a great role in that. The type of jewelry you wear is a representation of your preferences and opinions. If you consider yourself a classy woman, the best option is to let your jewelry speak that for you. We know, you've been wanting to expand your jewelry collection to express your personality more but you just can't figure what's the best brand or type of jewelry that resonates with your classy personality. Well, rest assured. If you've been looking for the best classy jewelry pieces to add to your collection, you're at the right place. The best place to start expanding your jewelry collection is with your rings. They dress up your every outfit without being too over the top, and in the end, that's what being classy is truly about. It's about having a refined sense of fashion that is glamorous to a certain extent without blinding you. We're here to help; read on to find out the top 10 breathtaking rings that'll be a classy woman's best friends.
#1 White Gold Diamond Claddagh Wedding Ring: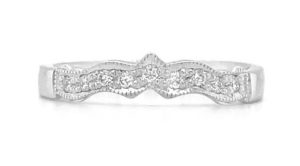 This first ring on our list is the epitome of class. The sparkling diamonds blend in perfectly with the cool white gold on the band. The design is simple and traditional, making it perfect for everyday wear. The all-white look of the ring is exactly what makes it ideal to match with any outfit you wear.
#2 Yellow Gold 2 Stone Emerald Claddagh Ring: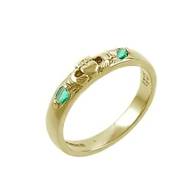 However, if you prefer warmer jewelry, yellow gold might be a better pick for you. The band of this classy ring is pure 14k yellow gold with beautiful detail in the center serving as the statement of the look. The emeralds on each side complement the intricate handwork perfectly and top the piece off with class.
#3 Yellow Gold Colored Green Diamond Celtic Knot Ring: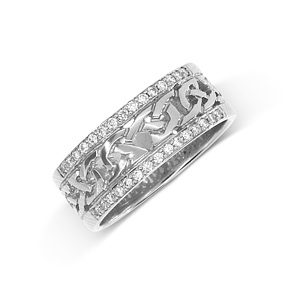 This Celtic knot ring is nothing less than a work of art. Its band, made of high-quality and pure 14k yellow gold, has a detailed Celtic knot pattern that follows throughout. Other than that, these gorgeous ring fingers have a band of white and green diamonds that compliment each other with perfection. When you say classy, this ring is the first thing to come to mind.
#4 White Gold Diamond Celtic Knot Ring: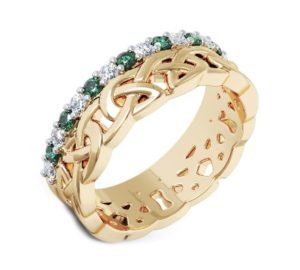 Here's another white gold piece that'll take your breath away. The wideband will flatter any hand and the sparkling whiteness of the piece will dress up any look. This 14k pure white gold band features a Celtic knot pattern engraved into it as well as two bands of small brilliant-cut diamonds affixed on it each side of the ring.
#5 White Gold Single Stone Diamond Celtic Solitaire Ring: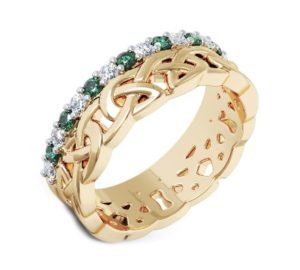 The look of this ring is truly classic and timeless, making it an ideal pick for a classy woman. It's made of 14k pure white gold but it's also available in yellow gold. However, the big sparkling diamond in the middle is the main attraction of the ring and is designed to catch eyes. Not only is this perfect to become a signature ring, but it's also a great pick for anyone dating a classy woman and planning on popping the big question.
#6 White Gold Diamond & Emerald Celtic Knot Ring: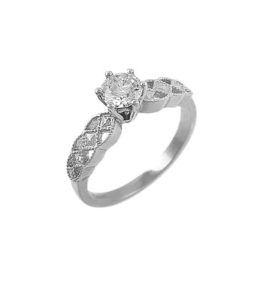 If you've liked all the sparkling white gold rings but are looking for a pop of color, here's the perfect solution. This 14k pure white gold has a knotted band made with the utmost precision. The statement of the piece is the brilliant cut diamond in the middle, which is complemented by two breathtaking emeralds on each side.
#7 Ruby Shamrock Ring With Diamonds: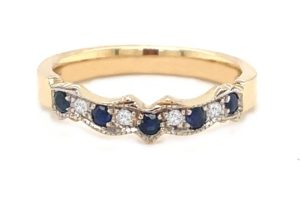 What better way is there to look classy than rocking some red rubies? The deep red clover on this 14k pure white gold ring is the ideal pop of color while the small diamonds affixed all round the band are the perfect sparkle needed.
#8 Yellow Gold Sapphire & Diamond Claddagh Wedding Ring: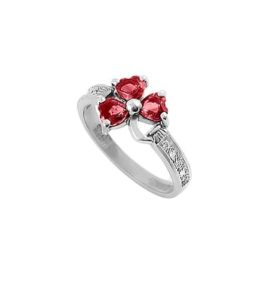 This is another classic design that won't go out of style, which is why it's a must-have in your collection. The 14k yellow gold band, also available in 14k white gold, has a traditional width and design. The sapphires and diamonds complement each other gorgeously.
#9 Yellow Gold Diamond Claddagh Wedding Ring: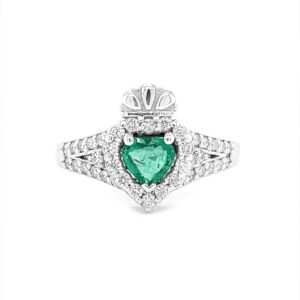 If you're looking for a classy everyday ring that'll complement all your outfits, there's no option more perfect than this yellow gold and white diamond combo. This combination is classic, timeless, and beautiful. However, for a more cool-toned look, you can also go for the white gold option.
#10 White Gold Heart-Shaped Emerald & Diamond Claddagh Engagement Ring: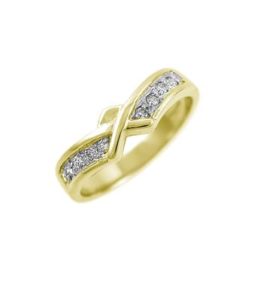 Last but not least, classy women are bound to make statements now and then. This heart-shaped white gold ring is the perfect candidate for a bold and glimmering moment. The charm of the heart-cut emerald is raised by the various diamonds surrounding it and the regal crown above it.
When expanding your jewelry collection to be classier, gold and diamonds are what you should be going for. Luckily for you, Irish Jewelry Craft has a wide and versatile collection of jewelry in white gold, yellow gold, silver, and platinum and affixed with diamonds, rubies, emeralds, sapphires, and other gems. Every product available at Irish Jewelry Craft is not only high quality and authentic, but it's also handcrafted and highly detailed. When you rock the rings from Irish Jewelry Craft, you can count on turning a lot of heads and catching a lot of eyes. Plus, Irish Jewelry Craft offers appointments with jewelry experts that'll help you pick the perfect piece for your personality or a loved one if you simply can't make up your mind. So, what are you waiting for? Upgrade your jewelry collection to its classiest version by heading over to their website and shopping from our curated list of the best rings for an elegant woman.
---
---
Keep in Touch With Us
Need any help to find the best Irish and Celtic Jewelry for you?
Please talk to us today. You can email us any time or give us a call.
Follow us on Facebook and Instagram, to keep you posted. Join our Email list for early offers and special features.