---

What is a Shamrock Necklace?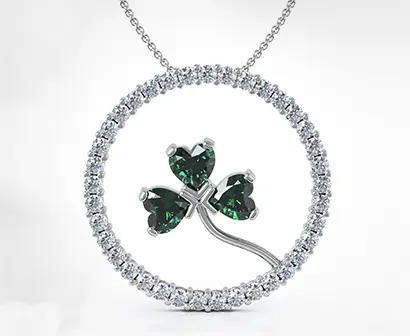 The shamrock is a symbol of Ireland cherished by Irish people around the world. Shamrocks often feature in Irish jewelry design nowadays, and there is an increasing appeal for shamrock jewelry.
Shamrocks are bright green in color, and so for this reason, shamrock pendants often feature green emeralds. A stylish yet subtle design, a shamrock pendant will work with any casual or formal attire.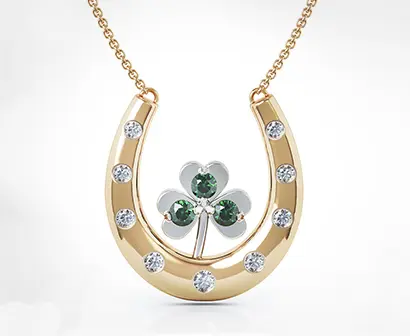 How to wear a Shamrock Necklace?

There is no denying that a shamrock pendant will make a great addition to any outfit that you wear! When it comes to wearing a shamrock pendant, you would put it on the same way around your neck as you would any other necklace.
Some people prefer to wear shamrock necklace over their clothes. For example, this over a turtleneck sweater. But, if you're wearing a v-neck top, it would look equally as good. For the most part, the shamrock pendants that we sell come with 18-inch chains.
Where can you buy a Shamrock Necklace?
As you may have gathered, the shamrock is a popular symbol of Irish heritage and culture. With that in mind, there are many sources online for shamrock pendants. So why should you buy one from Irish Jewelry Craft?
First of all, when you purchase any shamrock pendants from us, you are only buying the best quality items. We guarantee the shamrock pendants you buy from us get made with the metals and precious stones listed on each product description page.
Secondly, you'll notice we have a vast selection of stunning shamrock pendants on offer. And if you want to compliment a pendant, you could consider buying some of our related accessories, such as our beautiful range of Irish earrings and brooches.
Visit Our
Irish Jewelry Store
.
---
---
Keep in Touch With Us
Need any help to find the best Irish and Celtic Jewelry for you?
Please talk to us today. You can email us any time or give us a call.
Follow us on Facebook and Instagram, to keep you posted. Join our Email list for early offers and special features.