---

One of the oldest and most famous legends from Irish folklore is the love story of Oisín and Niamh and the mythical Irish land of eternal youth - Tír na nÓg.
Oisín and the Fianna

Many years ago in Ireland, there was an army of noble warriors named the Fianna. The leader of the Fianna was Fionn Mac Cumhaill, and his son was a poet and warrior named Oisín.
The story goes that one morning, the Fionn, Oisín, and the Fianna were exploring the glorious green hills of the Ring of Kerry as they hunted. They stopped to rest and looked out to the Atlantic Ocean. There, they saw a beautiful young woman riding a magnificent white horse across the waves. She had long golden hair, and her beauty radiated in the glistening sun.
Niamh of the Golden Hair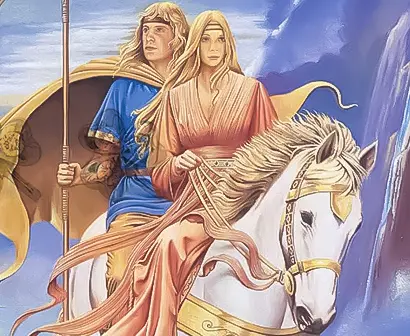 When this majestic young woman and her horse drew near, she spoke to the Fianna:
"I am Niamh of the Golden Hair. My father is the King of Tír na nÓg, the land of the young, where nobody grows old"
she proclaimed.
Tír na nÓg - An Irish Love Story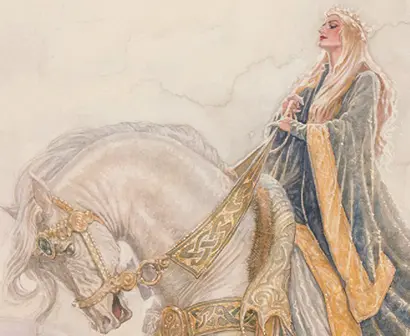 Niamh and Oisín fell in love at first sight, and they journeyed across the ocean waves on Niamh's magical horse to the shores of Tír na nÓg. There, they lived happily for 300 years - forever young in a magical land of youth, happiness, health, and beauty. However, 300 years in Tír na nÓg felt like only three short years to Oisín.
Oisín's return to Ireland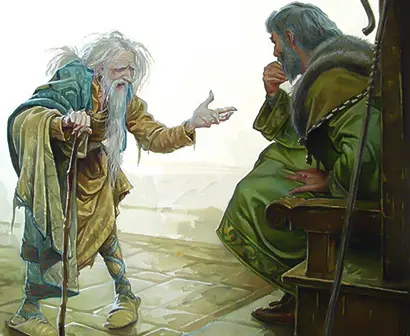 Over time, Oisín became homesick for Ireland and longed to return to his homeland. Niamh gave him her mystical white horse to take him back to the Emerald Isle. However, she warned him not to set foot on Irish soil, because if he touched the earth, he would never be able to return to Tír na nÓg. When Oisín returned to the shores of Ireland, he was dismayed to learn that 300 years had passed. His father and the Fianna were long gone, and his heart filled with overwhelming sadness. While on his journey across Ireland, he met a group of men who were trying to move a heavy rock. Legend has it that Oisín forgot the advice of his beloved Niamh - He bent over to lift the rock but lost his balance and fell from the horse. Niamh's enchanting white horse galloped away, and in the blink of an eye, Oisín aged into an elderly and frail man.
The Enchanting Irish Legend Lives on
The men brought Oisín to Saint Patrick, and he passed away soon after, never returning to Tír na nÓg again. But the magical tales of Oisín and Niamh and the land of Tír na nÓg live on.
Celtic jewelry captures the magic of the tale of Tír na nÓg
The love story of Niamh and Oisín can be brought to life in a gorgeous piece of Celtic jewelry. All our Celtic Jewelry is influenced and inspired by Ireland's rich heritage and culture. Browse our exquisite range of Irish and Celtic Jewelry on our website.
---
---
Keep in Touch With Us
Need any help to find the best Irish and Celtic Jewelry for you?
Please talk to us today. You can email us any time or give us a call.
Follow us on Facebook and Instagram, to keep you posted. Join our Email list for early offers and special features.