---

What is the History behind Celtic rings?

Celtic rings are a stylish addition to your jewelry box, and are full of Celtic symbolism. They have been part of Ireland's Celtic heritage since the age of the Celts - this was around 500 BC! However, it wasn't until 600 AD when Celtic jewelry started to surface and become more popular. The Christian influence in the country led to a new style of Celtic art.

The Trinity Knot Ring is generally the ring people associate with Celtic rings, but this is just one of many designs. These rings inspire a kind of Celtic mysticism from the Emerald Isle that people find irresistible.
What do Celtic Rings Mean?
Rings featuring Celtic symbols are well-known around the world, and usually consist of a series of never-ending knots in the ring design. These Celtic knots are symbolic of eternity, true love and infinity. The Celtic designs form beautiful rings that have become synonymous with Ireland. The Celtic Trinity Knot design is one of the most iconic celtic symbols, and features in many of our Celtic knot rings at Irish Jewelry Craft. Also known as the Triquetra, it symbolizes the Holy Trinity - The Father, The Son and The Holy Spirit. It has also been known to represent the earth, sea and sky, as well as life, death and rebirth.
Who Wears Celtic Rings?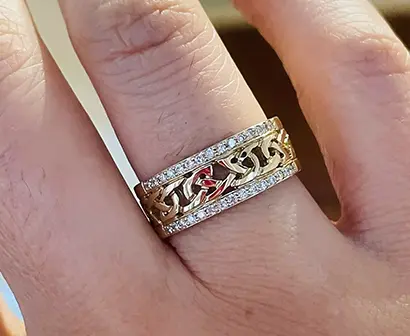 Celtic knot rings are often worn as a way to respect Irish heritage, but they may be worn to indicate anything from engagement to love. The interlace of the knot-work is commonly interpreted to symbolize infinite love, so they are a perfect choice for ladies engagement rings or wedding rings. If you are looking for a Celtic engagement ring, we at Irish Jewelry Craft, offer knot rings with a stunning diamond as the centerpiece. However, they aren't exclusively for women. There are also heavier, thicker set rings featuring Celtic knotwork, designed to better suit gents hands. The celtic symbols are full of meaning, and open to interpretation. Some wear Celtic jewelry as a symbol of their faith. There are no set rules for the wearer of a Celtic knot ring.
Where to buy Celtic Rings?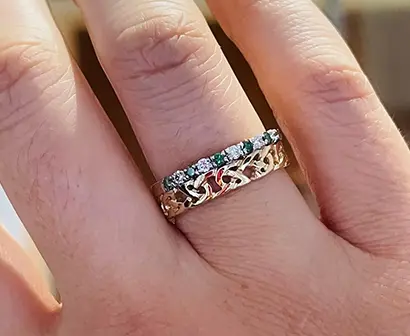 When buying a Celtic Gold Ring featuring Celtic symbols, it must come from an authentic source. The best place to go is Ireland itself, but you can also buy these rings online. To check whether a ring is authentically Celtic, you should look for an Irish hallmark which is unique to Ireland. At Irish Jewelry Craft, all of our jewelry is tested and Hallmarked at Dublin Castle and also bears our brand, so you can be certain of its authenticity.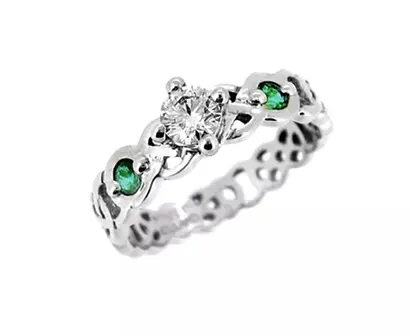 Designed and crafted in Ireland, our range of Celtic rings are suitable for every occasion. There are lots of celtic spiral ring styles available, including ones featuring the beautiful Trinity Knot. Feel free to check out our online catalog to view product details of our beautiful, one-of-a-kind gold celtic knot rings and bands. Our gold rings are handcrafted using 14 Karat yellow gold and white gold. We have a stunning range of Celtic Rings featuring sparkling diamonds, birthstones and other gemstones. We provide free shipping, and we offer engraving to add a personal touch to your Celtic jewelry. We have rings for both men and women, and a variety of different designs. You can choose from existing designs or get a custom one made specifically for you!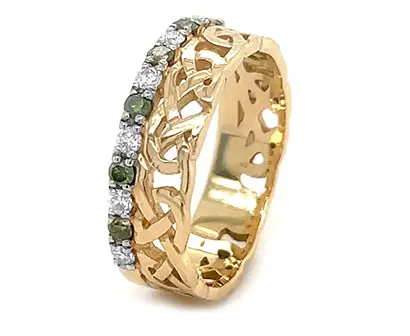 ---
---
Keep in Touch With Us
Need any help to find the best Irish and Celtic Jewelry for you?
Please talk to us today. You can email us any time or give us a call.
Follow us on Facebook and Instagram, to keep you posted. Join our Email list for early offers and special features.
You may also like