---

How Do I Choose the Right Claddagh Ring?
An Irish Claddagh Ring is the ultimate universal symbol of love, loyalty and friendship. There is an endless variety of different styles of these iconic rings on the market, so choosing the right Claddagh ring is important. The final design of the ring depends on a number of factors, such as the precious metals used, the addition of a diamond or gemstones, and the skill or the craftsmanship involved in making the ring. Depending on the materials used and type of heart-shaped gemstone, an Irish Claddagh Ring can be an extremely versatile piece of jewellery. To find out more about the meaning and history of the Claddagh ring, read our blog entitled 'Claddagh ring meaning'.
Here are a few important factors to consider when choosing your Claddagh ring design.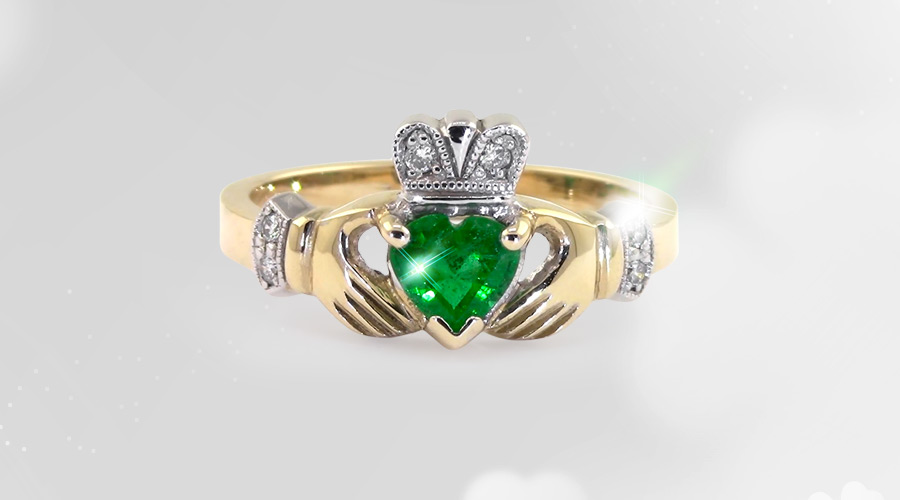 Who is the Claddagh Ring for?
Whether you are buying a Claddagh Ring for yourself, as a fashion statement, as an engagement or wedding ring, or as a gift to a friend or family member, there is the perfect style of Claddagh ring to suit every occasion. If you are giving a Claddagh Ring to a friend as a token of your friendship, you will want a different style of Claddagh to someone who is buying an engagement ring. A plain Gold or Sterling Silver Claddagh ring without a gemstone can be a beautiful and meaningful friendship ring. An engagement Claddagh ring, on the other hand, is likely to be more of a statement piece. A white gold or yellow gold Claddagh ring embracing a sparkling Irish diamond or emerald, can make for a stunning engagement ring or wedding ring.
Type of Materials used
Popular metals used in Irish Claddagh rings are 14k white gold, 14k yellow gold and Sterling Silver. The traditional style of an Irish Claddagh ring is the iconic Claddagh design on a gold or silver band, without a gemstone. However, diamonds, emeralds, sapphires and rubies all make beautiful adornments to the central heart of a Claddagh ring. Adding a birthstone to the heart of a Claddagh ring is a popular and stunning choice.
Consider your Budget
Although choosing the right Claddagh ring is not all about money, it does play a significant and important role. The metals used and the addition of gemstones will all have an impact on the cost of the ring. A white gold Claddagh ring typically costs more than a sterling silver Claddagh ring because of the different metal used. When it comes to choosing gold rings, the real difference in price is determined by the karat of the gold. Karat is a measurement indicating the purity of the gold. A 24 Karat gold ring will inevitably cost more than a 9 Karat gold ring. In addition to this, the purity and clarity of any stone used, such as a diamond or sapphire, will have an impact on how much a Claddagh ring costs.
What is the best Claddagh engagement ring to choose?
Should you choose yellow gold, white gold, or sterling silver? Will she prefer an emerald, sapphire, or central diamond? Should you include her birthstone? Selecting the right Claddagh engagement ring for your partner can be daunting, but through our years of service, we have learned a thing or two about getting it right.
Have a budget Claddagh engagement rings come in many different materials and with gemstones in various carats and sizes, and so by deciding your budget, you will narrow down the rings you have to choose from. Although you may not be able to afford the largest carat diamond ring, there are plenty of other Claddagh engagement ring options available with smaller carat gems.
Choose a metal Gold, white gold, platinum or silver? Do you know your partner's taste in jewelry? When it comes to choosing the metal for your engagement ring, it's generally safest to choose the color that your partner wears the most. If they wear a lot of yellow gold, then choose this metal. If they wear a lot of silver, then white gold, platinum or sterling silver may be a better option.
Choose a gemstone Traditionally, the diamond has always been the gem for proposals. However, this isn't the only option available. A striking red ruby, a dazzling blue sapphire, or a glittering green emerald all make beautiful additions to the Claddagh design. If you still want to have a few diamonds present, these can be studded on top, in the crown, or along the arms and hands that make up the ring band.
Remember your wedding bands Lastly, remember to consider your wedding bands. Here at Irish Jewelry Craft, we stock a variety of luxurious Claddagh ring sets, with both the engagement and wedding band included. However, we also stock Claddagh engagement rings and wedding bands separately. We also offer free engraving, to add a personal touch to your ring. When making your decision, bear in mind the wedding ring design you wish to choose and how it will go with your engagement ring when the two are worn together.
Claddagh Engagement Rings are perfect for anyone planning an engagement and wedding - especially if you and your partner are fond of Ireland and Irish culture. If you are planning on proposing with a Claddagh Engagement ring, there is no better option than an authentic handcrafted Claddagh diamond engagement ring from Irish Jewelry Craft. A solitaire diamond gemstone is the ultimate symbol of your love. In terms of metal, 14 karat yellow or white gold tends to be the perfect accompaniment for a high quality Diamond. You could even add in a matching pair of Claddagh earrings, or a matching Claddagh necklace or pendant for the wedding. To learn more about where to purchase your Claddagh Jewelry, read our blog entitled 'Where to buy a Claddagh ring?
Whether you are looking for a ladies gold Claddagh to give to your partner, a diamond encrusted style for an engagement or wedding ring, or a simple yellow gold band for friendship, a claddagh ring is an everlasting Irish symbol of friendship, love and loyalty.
---
---
Keep in Touch With Us
Need any help to find the best Irish and Celtic Jewelry for you?
Please talk to us today. You can email us any time or give us a call.
Follow us on Facebook and Instagram, to keep you posted. Join our Email list for early offers and special features.