---

If you live in Ireland or have ever visited Ireland, then chances are you've come across the Celtic Tree of Life in some shape or form. It is one of many beloved Celtic symbols that dates back a number of centuries. For the Ancient Celts, the Celtic Tree of Life (known as Gaelige as Crann Bethadh) held great importance as an integral and symbolic part of their culture. We'll be diving into the symbolic significance of the Tree of Life later in the article.
Firstly, we're going to explore what the Celtic Tree of Life looks like, why it looks the way it does, and how the appearance of this Celtic emblem ties in with its legend and its invaluable place in the pantheon of Celtic symbolism.
What does the Celtic Tree of Life look like?
When I was younger, my mother wore a Celtic Tree of Life pendant that I would trace over with my fingers, astonished by its beauty and intricacy. An Crann Bethadh shows a large and strong tree with a far-reaching cluster of branches and leaves on top, mirrored by a complex root system spreading underneath. One of the first things you'll notice about the Celtic Tree of Life is that the juxtaposing branches and roots make the symbol symmetrical in nature. And, if you're thinking the symmetry of the Tree of Life plays a role in its symbolism, then you're absolutely right, but more on that later.
Over the years, people have remarked that symbols like the Celtic Cross and the Celtic Tree of Life simply 'look Irish or Gaelic'. This is achieved through the use of 'Celtic knots'. Celtic knots are seemingly endless knots that wrap and intertwine with one another. The use of Celtic knots makes the image of the Tree of Life much more striking, complex, and distinctive from Tree of Life symbols from other cultures around the world. Celtic knots can be found in art and literature throughout Ireland's history.
Apart from its roots (pardon the pun) in Celtic culture and history, the image of the Celtic Tree of Life itself is bewitching and captivating. This is why it has stood the test of time as popular artwork, tapestry additions, modern tattoo inspiration, and of course jewellery designs.
The Legend of the Celtic Tree of Life

Rather unsurprisingly, the history of the Celtic Tree of Life is one that is rooted in magic and folklore. Legend has it that the Ancient Celts believed the Tree of Life symbol carried magical powers. In fact, it was popular to honour the symbol by nominating a Tree of Life in the middle of one's field. It was under this specific tree that important gatherings, rituals, and even political appointments were made.
The Ancient Celts viewed the Tree of Life as something that could provide food, shelter, medicine, and even new life. It's because of this that the Celts held the idea of a Tree of Life in such high regard. So much so that chopping down someone else's Tree of Life was considered a majorly serious crime.
The Symbolism Behind the Celtic Tree of Life

In its purest and most basic interpretation, the Celtic Tree of Life represents the circle of life, harmony, and the balance of nature. The symmetry and use of Celtic knots reinforces this idea. Many people choose to see it as a representation of the cyclical stages of life and death; birth and growth from the roots, maturing into a strong far-reaching tree, before eventually fading and returning to the earth to make way for new life.
The Celts themselves also saw their Tree of Life as a symbol of positive personal attributes such as wisdom, strength, and positivity. Some even saw their own Tree of Life as a line of communication between our world and the Gods in Heaven.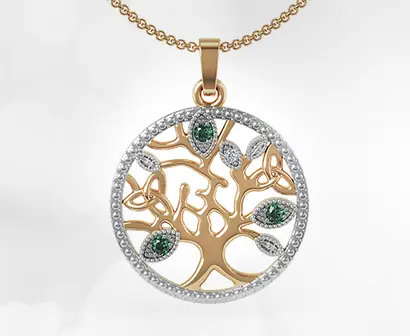 The Celtic Tree of Life is certainly a fantastic symbol in every sense of the word, and certainly one to give a second or third glance to next time you spot one!
---
---
Keep in Touch With Us
Need any help to find the best Irish and Celtic Jewelry for you?
Please talk to us today. You can email us any time or give us a call.
Follow us on Facebook and Instagram, to keep you posted. Join our Email list for early offers and special features.