---

If you are looking for a promise ring representing love and commitment, then an authentic Irish Claddagh Ring is a perfect choice. The iconic Claddagh Ring, or fáinne Chladaigh in Irish, symbolizes love, loyalty, and friendship and has been used as an Irish promise ring since its' creation over 400 years ago. In this blog, we explain the concept of Promise Rings, as well as the origin and meaning of Irish Claddagh Rings.
What is a Promise Ring?

A promise ring, also known as a posy ring, can be given to your partner as a romantic gesture and a token of love. It is a visual representation of a couples' loyalty and devotion. Promise rings have become very popular in recent years, but the concept dates back to the 16th and 17th century. A promise ring is frequently given as a pre-engagement ring and can be of any design and any metal. They are often inscribed with romantic phrases or lovers' initials. Traditionally it was believed that keeping these words close to your skin made them more meaningful.
Traditional Claddagh Rings make exquisite and timeless promise rings due to their deep symbolism and romantic meaning.
The Claddagh Ring - An Irish Promise of Love, Loyalty, and Friendship.

The beautiful Claddagh ring is recognized as the universal symbol of love, loyalty, and friendship amongst those of Irish heritage and beyond.
The iconic Claddagh design comprises a central heart, held by two clasping hands topped with a royal crown. The heart represents love; the hands signify friendship, and the crown symbolizes loyalty.
The Story of the Irish Claddagh Ring
This charming ring originated in the ancient fishing village of Claddagh in County Galway in the 17th century. Many stories and legends have been linked to the origin of the Claddagh Ring, but most believe that a man named Richard Joyce created it.
The story goes that Richard Joyce, an Irish sailor from Claddagh, Galway, was captured by Algerian pirates in the 17th century. Sold to a Moorish goldsmith, he was enslaved for 14 years. The goldsmith needed an apprentice and taught Joyce his craft during his 14 years in captivity. In 1689, Joyce was released, and returned home to his true love in Claddagh. He designed the original Claddagh ring as a token of his endless love for his sweetheart, proclaiming: 'With these hands, I give you my heart, and I crown it with my love.'
Another mythical fable that lays claim to the origin of the Claddagh ring is that of a native Galway woman named Margaret Joyce. Margaret was married to an affluent Spanish merchant who traded with Galway city. After her husbands' death, Margaret returned to Galway and built bridges with her wealth. The legend goes that an eagle dropped the first Claddagh ring into her lap to reward her kindness and good deeds.
How to Wear Your Irish Claddagh Ring as a Promise Ring
Traditionally, the Claddagh Ring is worn to display your relationship status. It can be worn as a wedding ring, engagement ring, promise ring, pre-engagement ring, or friendship ring, making it a very diverse piece of jewelry.
If you are lucky enough to be given an authentic Claddagh ring as a promise ring, you can wear it in one of these two ways:
On your right hand:
Wear it on the ring finger, with the heart facing inwards towards the heart. The point of the heart should face the hand while the crown should stretch towards the fingertip. This conveys that your heart belongs to somebody special, but you are not engaged or married. See the image below.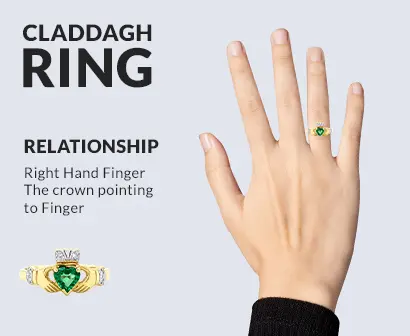 Heart: Facing Inwards
On your left hand:
Wear it on the ring finger with the heart facing outwards, away from the heart. This implies that you are engaged or in a lifelong partnership.
See the image below.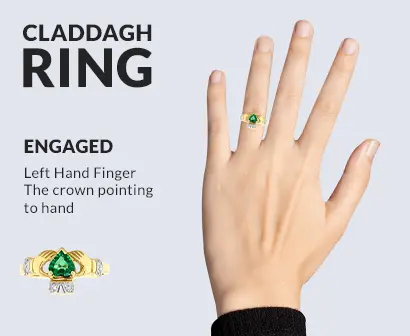 Heart: Facing Outwards
Meaning: Engaged or in a committed relationship
What is the difference between a Promise Ring and a Commitment Ring?
Promise rings and commitment rings share a similar concept - they are given to express a pledge of loyalty and commitment between two people. Commitment rings generally represent a couple's dedication to one another, without necessarily an intention to get engaged or married. On the other hand, Promise rings are typically a precursor to an engagement ring. As with promise rings, commitment rings can be of any price and design. The meaning of these rings varies from couple to couple, so they can mean whatever feels right for your relationship.
Giving an Irish promise ring is an extremely romantic gesture. Occasions such as Valentine's Day, a special anniversary, a Birthday, Christmas, or New Year's are all perfect moments to surprise your soulmate with this Irish promise of love. Browse our exquisite collection of Claddagh Rings on our website to find the ideal Irish Promise Ring for your true love.
---
---
Keep in Touch With Us
Need any help to find the best Irish and Celtic Jewelry for you?
Please talk to us today. You can email us any time or give us a call.
Follow us on Facebook and Instagram, to keep you posted. Join our Email list for early offers and special features.