---

While all Claddagh ring designs focus on the concept of two hands holding a heart and crown, the exact designs can vary depending on the occasion and your individual style preference. When you are choosing a ladies or men's Claddagh ring, it isn't just a choice between yellow gold, white gold, rose gold or sterling silver. Many people choose to wear a ring adorned with diamonds or precious gemstones too. In addition to this, you may decide to engrave the band with an ancient Irish saying or a personalized message. Claddagh rings are available in so many diverse styles and designs, meaning they can be gifted in many different ways - as an Irish wedding ring, engagement ring, friendship ring, promise ring, or even a precious family heirloom.

A Gold Claddagh ring is undoubtedly the most popular type of ladies Claddagh jewelry from Ireland. While yellow gold was once the most popular type of gold Claddagh, there are now plenty of other options available. The classic Claddagh ring is available in most types of precious metals, so you can choose the perfect ring to suit your style. From a rose gold band to white gold and yellow gold, and even a diamond Claddagh engagement ring, there is something to suit everyone and every occasion.

A Claddagh engagement ring or Claddagh wedding band will often incorporate diamonds within the design on the hands, the heart or the crown. Meanwhile, Claddagh engagement ring and wedding ring sets are worn together with the two designs linking as one. A birthstone, such as sapphire (September) or Ruby (July), set in the crown or heart of the ring makes the perfect Claddagh birthstone ring. If you really want to honour its Irish origins, why not give a nod to its Galway heritage and add a precious green emerald to your ring as a traditional Irish symbol? You will also need to consider the ring size of your Claddagh band.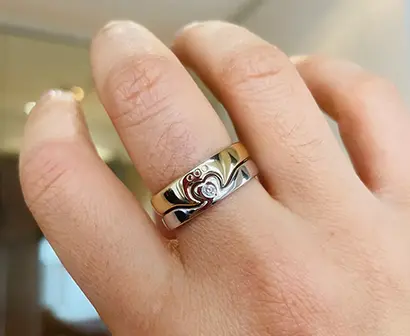 While many people prefer the classic style of a gold Claddagh band, feel free to be as unique as you like. If sterling silver complements your skin tone, or a white gold Claddagh ring matches other jewelry you own, you may prefer to add these to your collection.
With so many options and styles to explore, you are sure to find the perfect Claddagh ring for yourself or your soul mate. In truth, whether you select a diamond Claddagh ring, a band hand-crafted from Connemara gold, or a band sparkling with an emerald, ruby or sapphire gemstone, an Irish Claddagh ring is always destined to delight the wearer.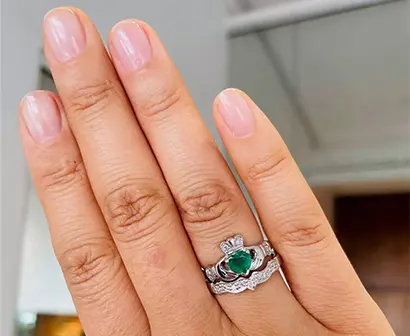 At IrishJewelrycraft.com, our talented Irish goldsmiths offer a stunning collection of Claddagh rings hand-crafted here in Ireland. Whether you are looking for a ladies engagement ring, a gents wedding band, or a stylish birthstone ring, we offer a diverse selection that is suitable for both men and ladies. These come in various gem and metal options too. Some of our most popular choices include our emerald Claddagh rings, yellow gold Claddagh rings, white gold Claddagh rings and our selection of diamond Claddagh rings. View details online. Whatever you are looking for in an Irish Claddagh ring, you are sure to find the perfect ring at Irishjewelrycraft.com.
---
---
Keep in Touch With Us
Need any help to find the best Irish and Celtic Jewelry for you?
Please talk to us today. You can email us any time or give us a call.
Follow us on Facebook and Instagram, to keep you posted. Join our Email list for early offers and special features.