---

Did you know that horseshoes have long been considered lucky? For centuries, horseshoes have been viewed as good luck charms in Ireland and across Europe. Some historians believe the folklore behind the horseshoe dates back to 10th century England. Dunstan, a bishop that was later canonized as a saint, was said to have been visited by the devil.
Being a blacksmith, Dunstan had apparently nailed a horseshoe to one of the devil's hooves. Folklore legend has it that Dunstan had only agreed to relieve the devil of his pain from the horseshoe on the condition he never entered the home of anyone with a horseshoe on their door.
These days, the horseshoe is often thought of as a lucky talisman in many cultures, both in Ireland and beyond.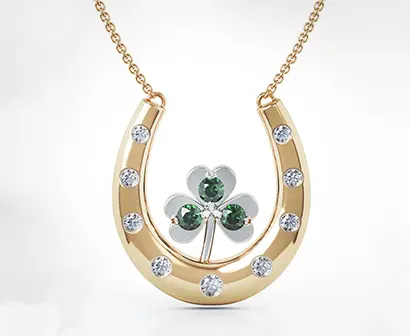 How to wear a Horseshoe Necklace?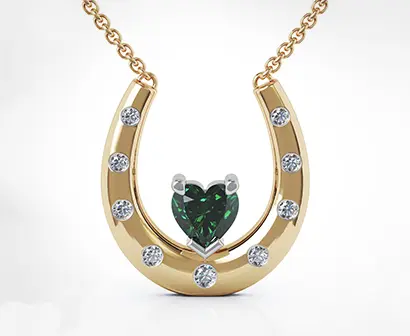 Proudly made in Ireland, our horseshoe pendants go well with a variety of garments and outfits. It doesn't matter whether you wear it over your clothing or underneath it, one thing is for certain. You will feel that you've got a lucky talisman close to your body! And whether you choose to believe in superstition or not, you'll certainly feel more positive by wearing it!
As you would expect, wearing a horseshoe pendant is the same as wearing any other kind of necklace. When you do put it on, be sure to check that the horseshoe pendant is secured around your neck.
Where can you buy a Horseshoe Necklace?

At Irish Jewelry Craftt, we have a range of beautiful 14 karat Gold horseshoe pendant necklaces. These pendants have stunning emerald and diamond detailing. Browse our selection to find the one that best suits your fashion style! And with free tracked delivery, you can be sure that your new horseshoe pendant will reach you quickly and without issue.
---
---
Keep in Touch With Us
Need any help to find the best Irish and Celtic Jewelry for you?
Please talk to us today. You can email us any time or give us a call.
Follow us on Facebook and Instagram, to keep you posted. Join our Email list for early offers and special features.