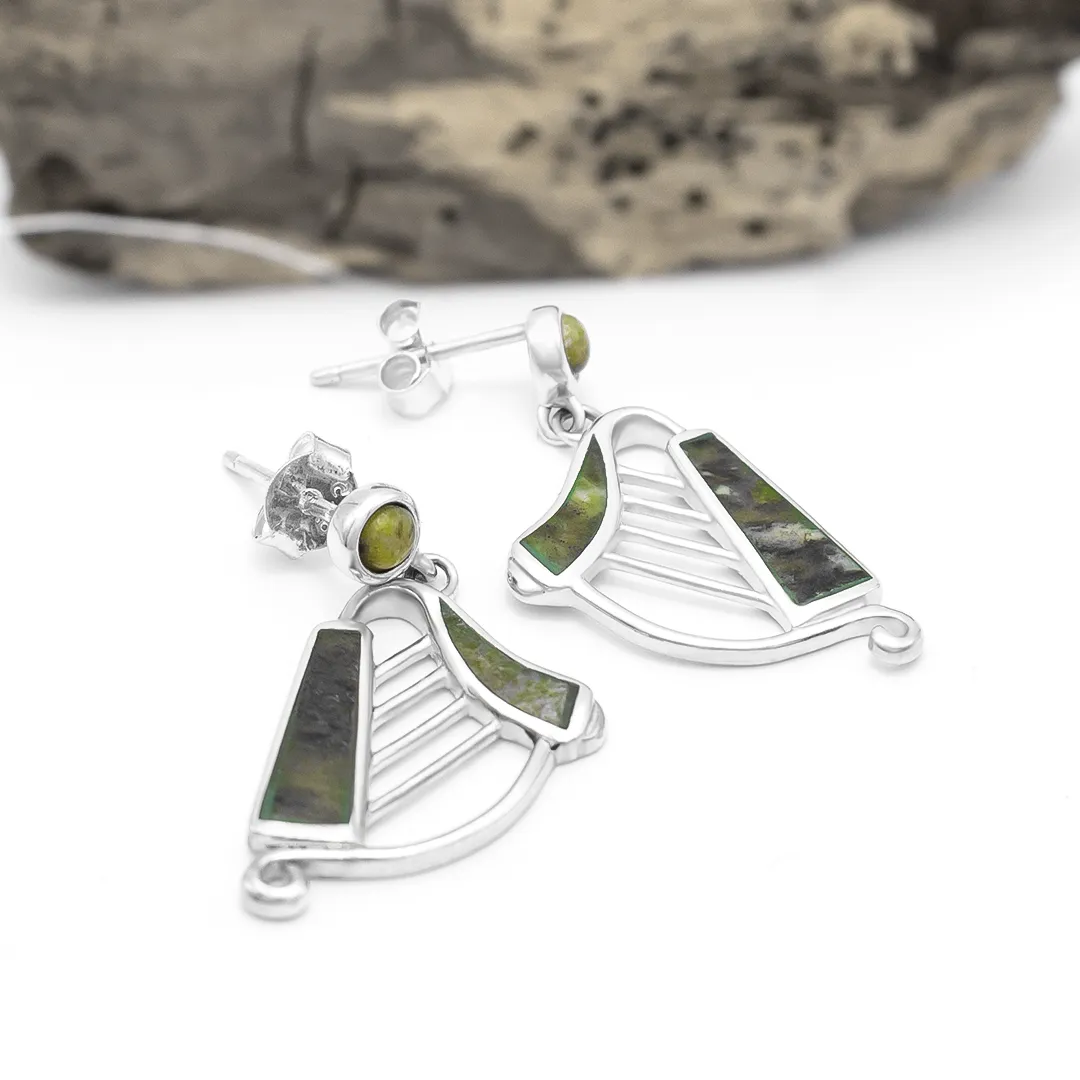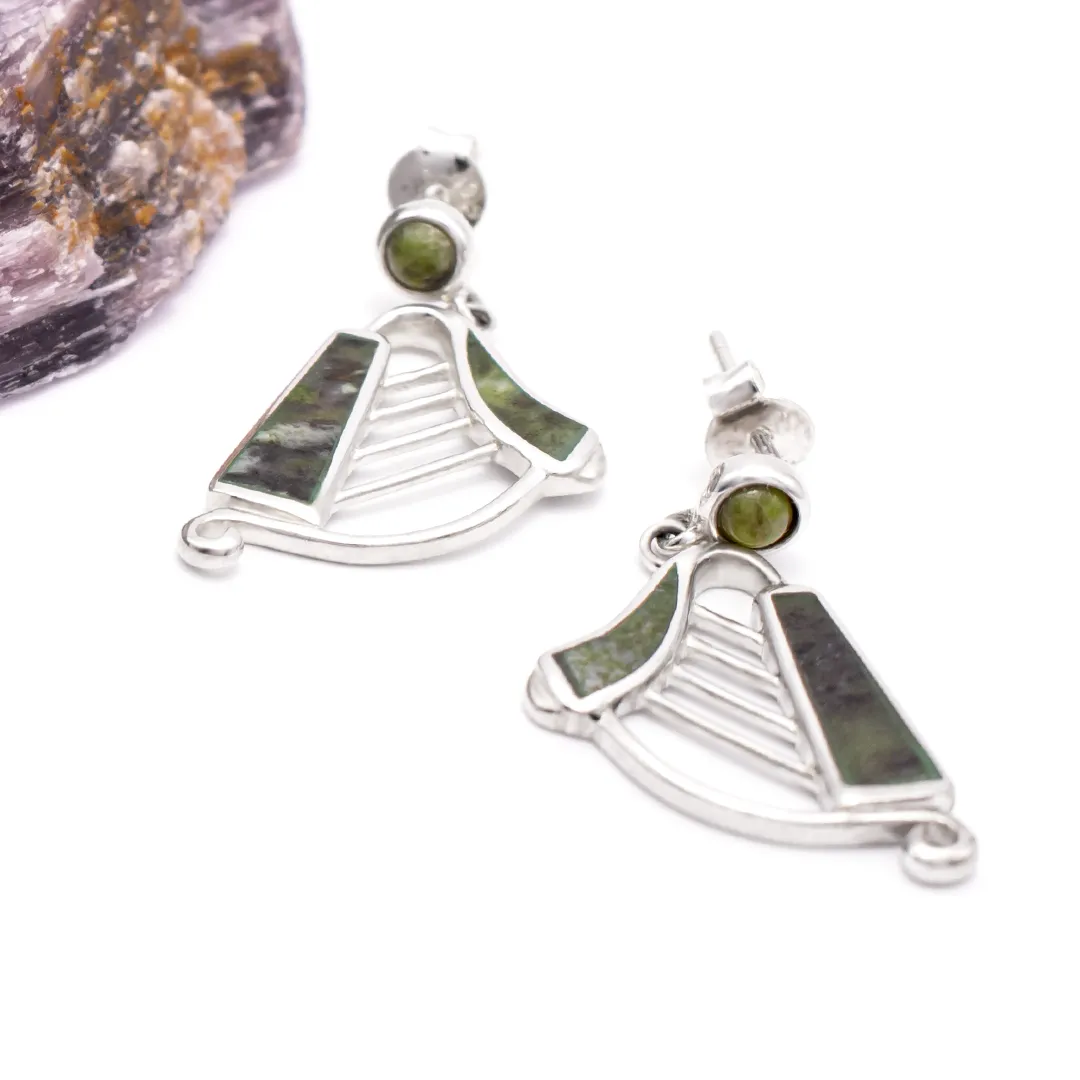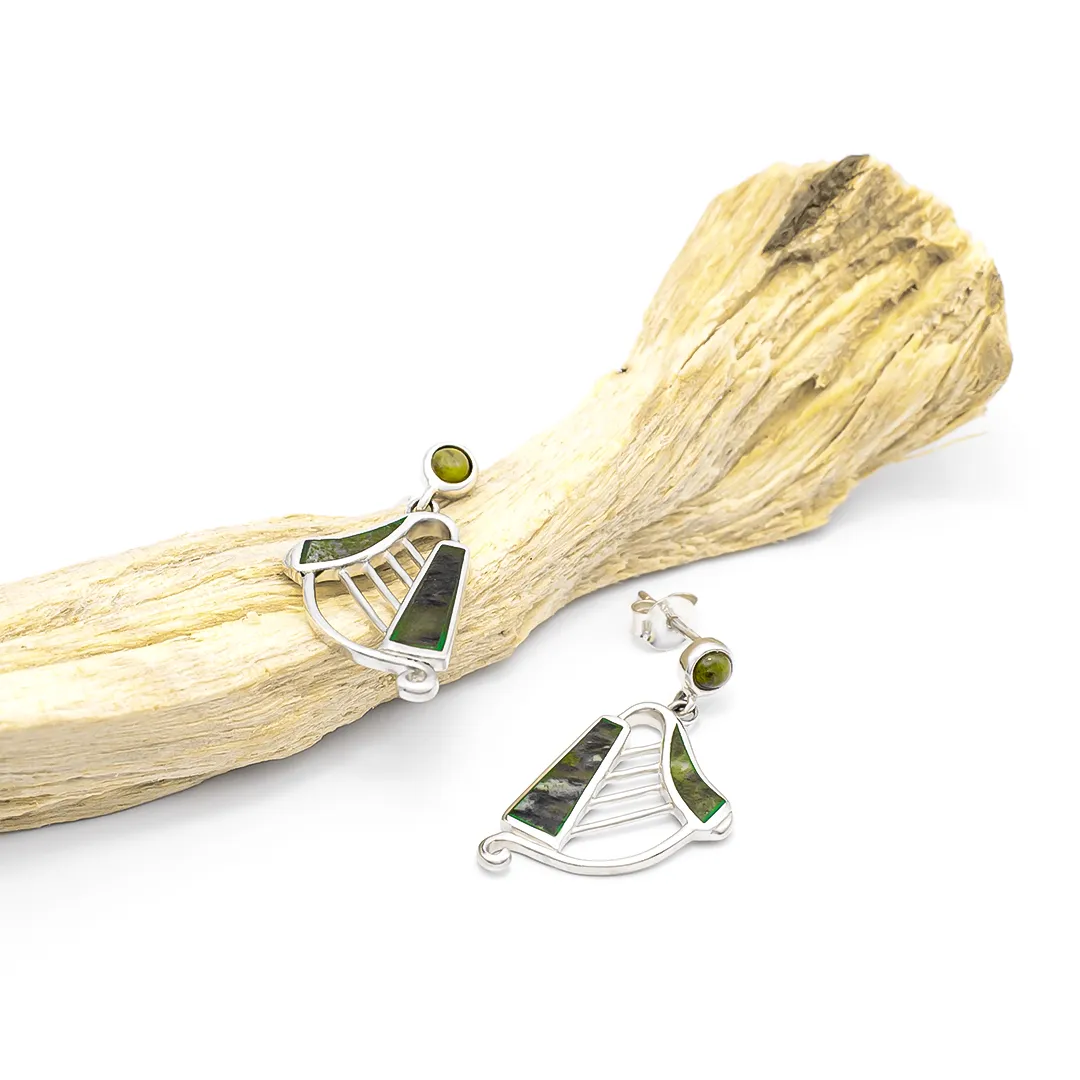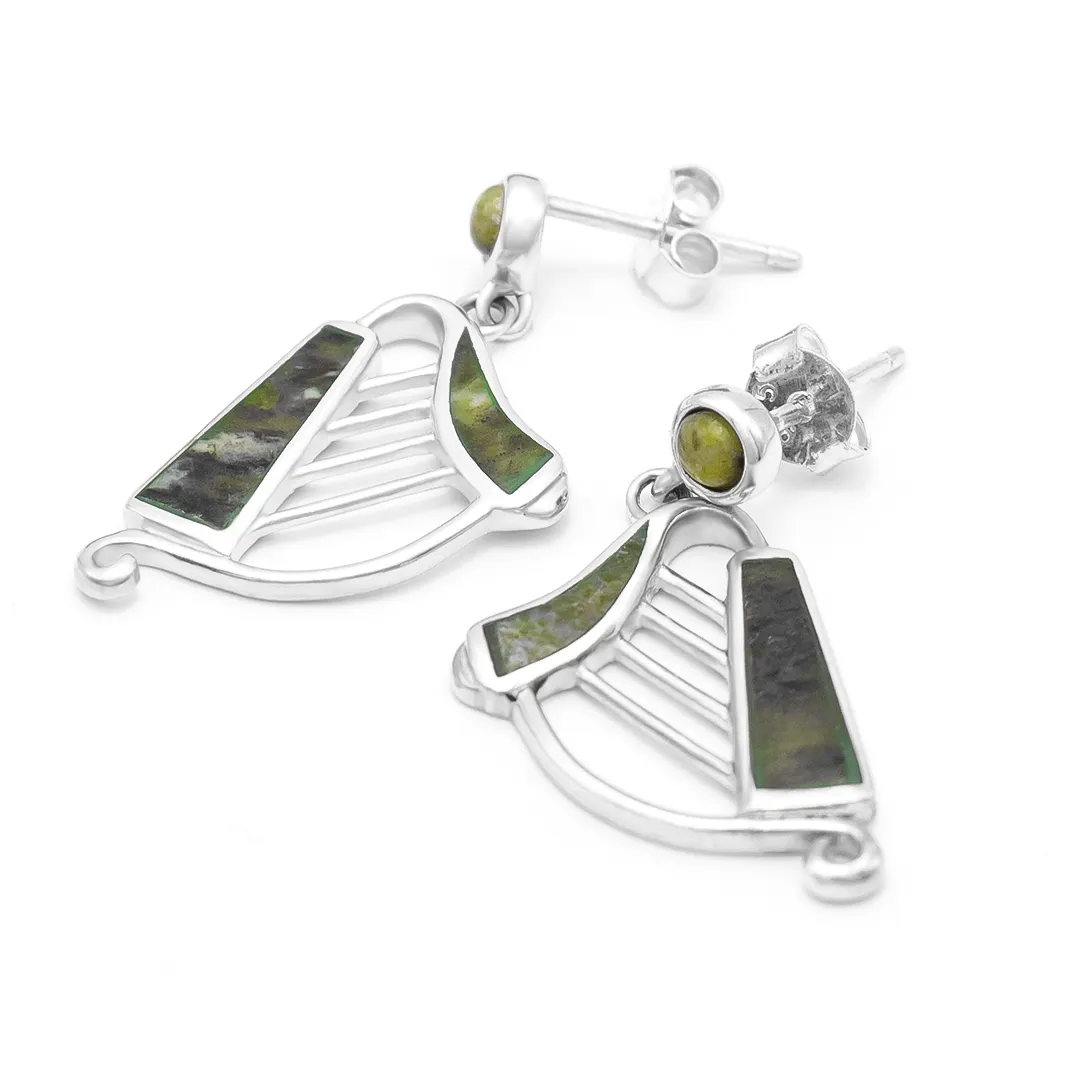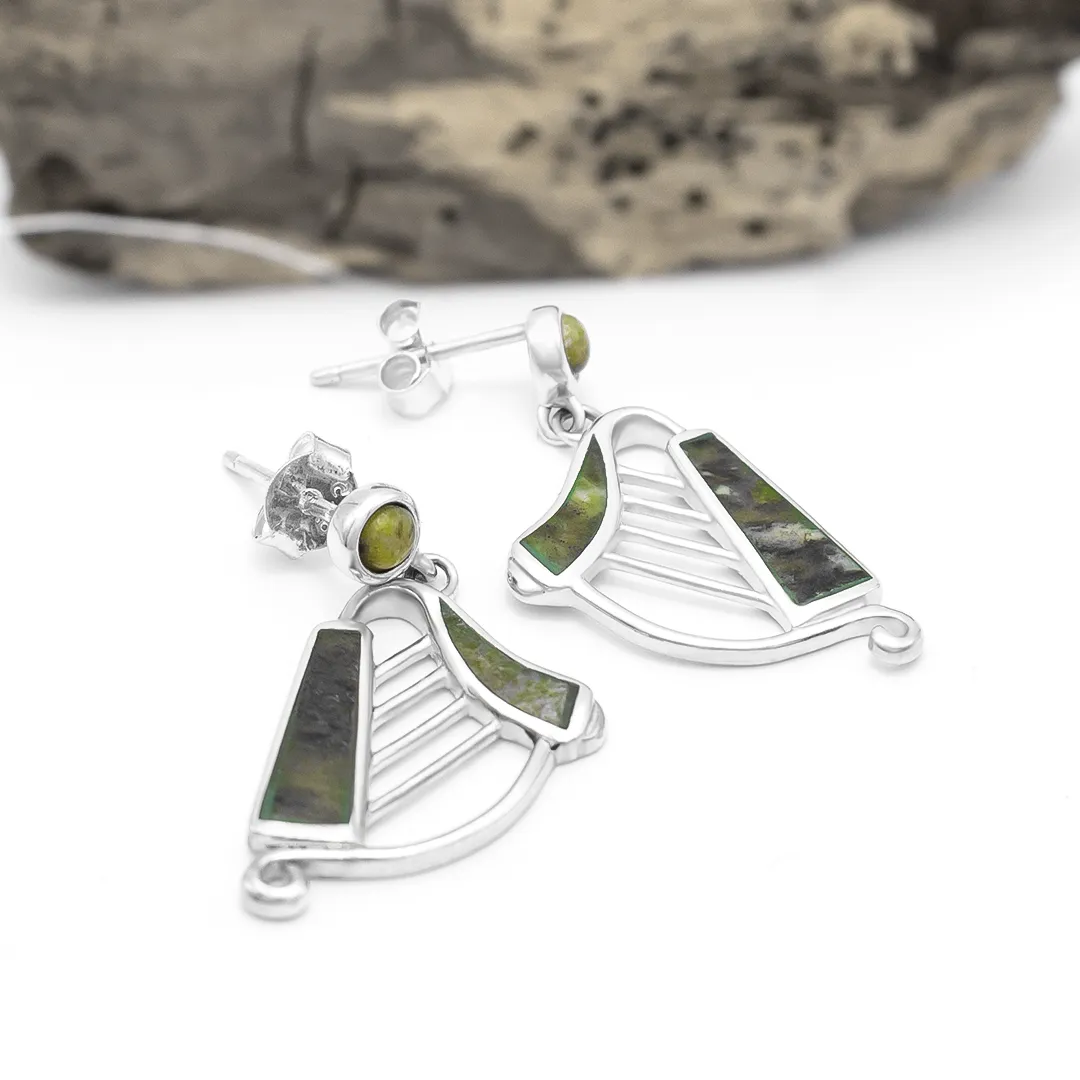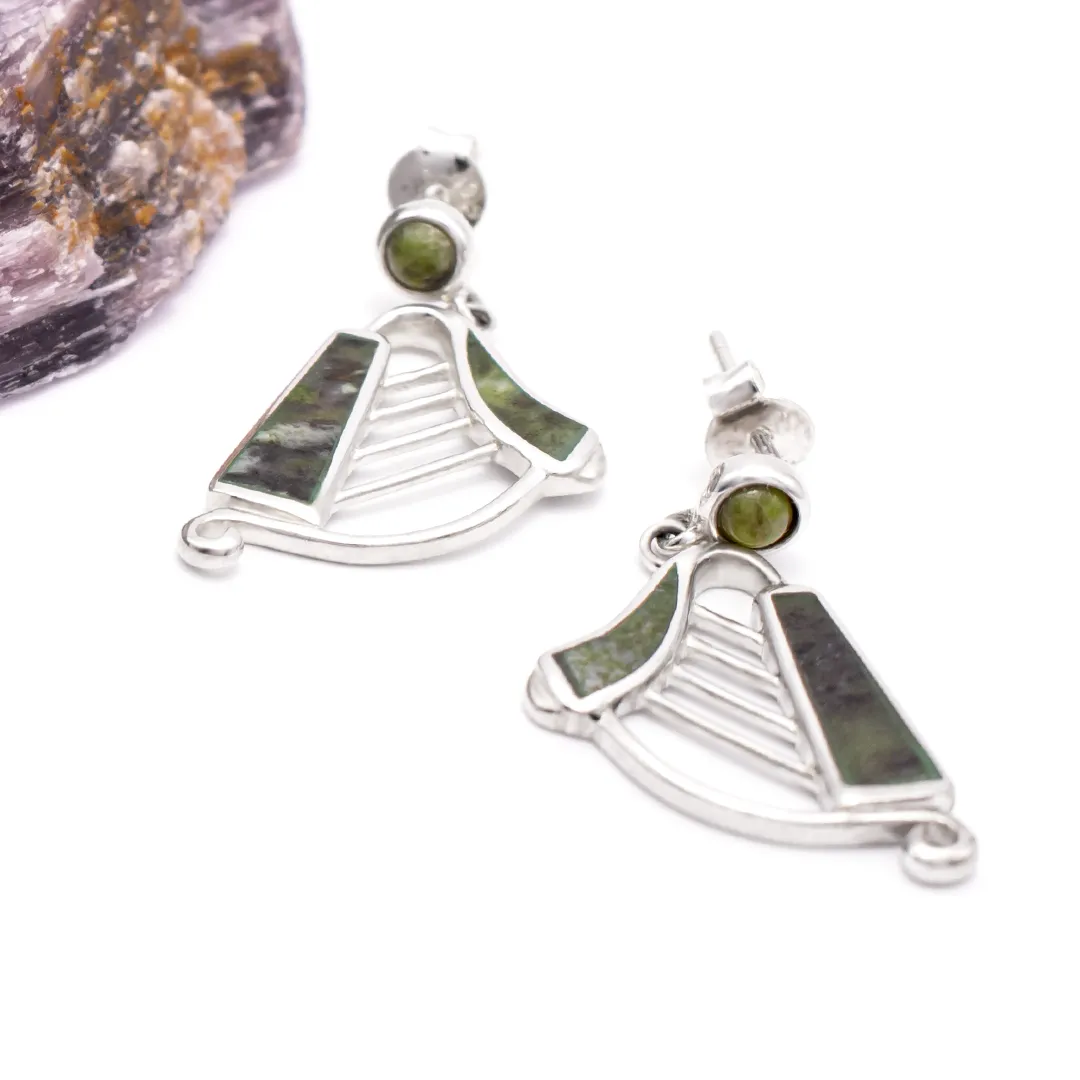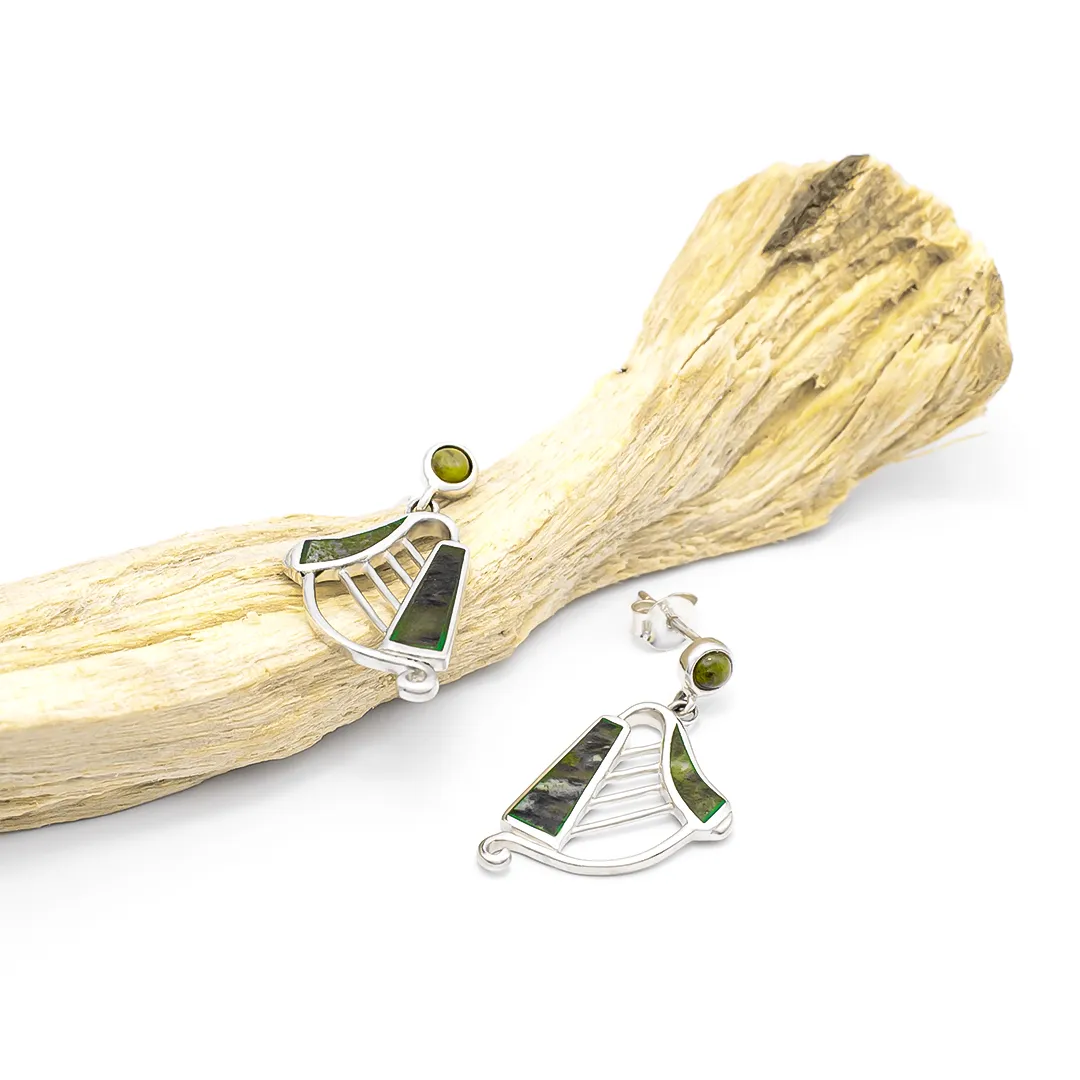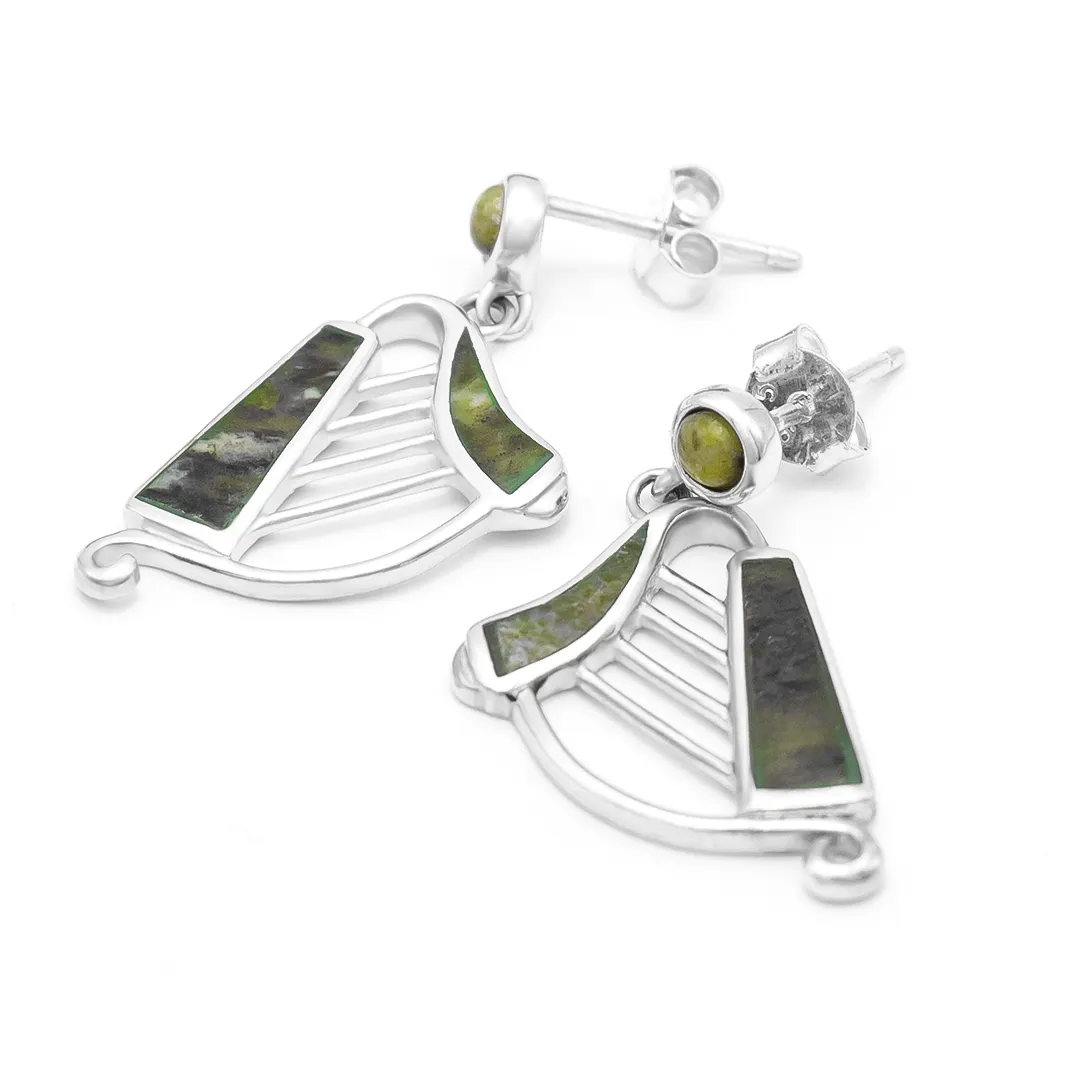 Connemara Marble Sterling Silver Irish Harp Earrings
Sterling Silver
---
About This Piece
Celebrate your Irish heritage with these delightful and stylish Harp Earrings from Ireland. Handcrafted from sterling silver and adorned with authentic Connemara Marble, these are a true Irish delight!

These gorgeous earrings display Ireland's national emblem, the Harp, crafted from quality sterling silver. They are embellished with three genuine Connemara marble stones, which complement the design beautifully. The earring hangs from a sterling silver ear-post which is adorned with a Connemara marble stone. All our sterling silver jewelry gets its hallmark seal of approval from the Assay Office in Dublin Castle.
You may also like our matching Irish Harp Pendant. Click here.
The Harp has played an important part in Ireland's history, both as a musical instrument and as Ireland's national emblem. One of the world's oldest instruments, musicians played the harp to entertain the ancient high kings of Ireland. The old Irish flag featured a harp on a green background. Today, the Irish harp can be found on Irish euro coins, the Irish Presidential seal, many official Irish documents, and Irish passports.

Ireland's natural gemstone, Connemara Marble, features many swirling shades and tones of green. These vibrant green hues mirror Ireland's green landscape. Wear these unique Irish Harp Earrings and take a piece of Ireland with you wherever you go!

Specifications
Metal
Sterling Silver
Main Stone
Connemara Marble
Hallmark
Irish Assay Office
Luxury Gift Box
Included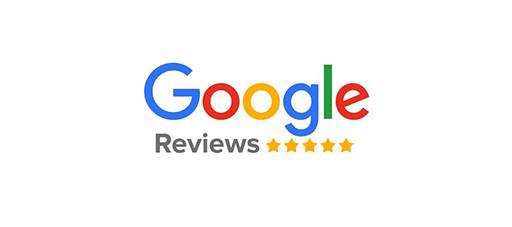 Thank you David and Team for the art works. They hold a special space in my heart. Your beautiful designs, the quality of your stones and your professionalism keeping making me come back to you. Looking forward to the next piece.

Myself and my husband got our wedding bands from David!! Fantastic service and attention to detail. The pieces are just stunning. We will be back.

we have been dealing with David for a while now and are very happy with the quality and craftsmanship of his Irish Jewelry. he is always very pleasant and helpful to deal with. we wish him the very best with this new website.

Great service provided by David and team. Nice selection of high quality jewellery.

Amazing. I'm very satisfied with the ring. Thanks again.

I would definitely recommend.
Deirdre Gavin

Had a fabulous experience with David for my engagement and wedding rings, superb advice, sourcing and making rings I'll cherish forever. David and the team are amazing at their craft!

Jenni Kavanagh

Myself and my husband got our wedding bands from David. The attention to detail from both David and Tsegi was amazing, making sure the fit was just right, the pieces are stunning! We will be back!!! Thank you!!
Talk to Our Expert Today!